"Once in A While, Take the Road Less Taken"
This Jon Krakauer quotation always had a lasting impact on my life. It still does. 'If you want to enjoy your life to the fullest, you have to take risks. You have to do something that scares you.' That's what I took from that quote.
As a teen with anxiety issues, to me, every little thing felt like a gargantuan task. Travelling made me forget my issues and helped me get through my problems. I usually spent hours in cyberspace surfing about new places for me to travel. I found many paradises by that, thanks to the Internet.
In common sense, everyone likes to travel and everyone is a traveler in one sense or the other. Seeing new places, seeing new people, eating new foods, and learning about new cultures and languages are only a few aspects of traveling and these were the things that intrigued me the most.
It was from Instagram that I first came to know about Ballarayanadurga fort. I thought it would be a noisy tourist destination and I was reluctant to even google this place. I was astounded by the search results.
Ballalarayana Durga is a place situated in the heart of the gorgeous Chikmagalur, away from the chaos of Bangalore city. This isolated fort can only be reached by trekking through the hilly forest region. It is situated in Sunkasale in Chikmagalur District of Karnataka. It is one of the few forts that can be found in the Western Ghats.
As soon as I saw those photos, I started to make plans in my mind.
I am not that into all these tourist destinations that are generally offered in our country. I always thought of these places as a tourist traps. So even though Ballalarayana Durga piqued my curiosity, I was still a little hesitant. But nevertheless, a huge desire to visit the fort welled up inside me. I talked it over with my close friends and finally, we decided to go there.
We started off early in the morning from Bangalore city. There are certain things that I am strict about when it comes to traveling. And the top of the list is filled with what and what not to carry during our routine travel expeditions. We tried to avoid carrying plastic covers and other stuff as much as we could, but it's quite impossible to do that nowadays. But we still tried our best to make it possible and in the end our decisions were proper and we were happy we did that
When one of my friends first told me about RiverMist Resort, I was a little skeptical about it. I have these predetermined notions about certain things. I know that's bad, but I can't help it. Anyway, the guys from the resort were a great help throughout our journey and I can't thank them enough. They arranged everything for us. Without their help, our trip would've been a disaster.
I could only find a few details about the place before we began the journey. The Ballarayanadurga fort was constructed by the wife of Veera Ballala l who was the king of the Hoysala Empire in the 12th century. The Hoysalas were known to be patrons of art and architecture and built several temples and a few forts during their rule. The Ballalarayana fort was built in the Karnata Dravida style of architecture.
At this point, I was so excited and I was smiling throughout the rest of our journey. I came to know from the RiverMist guys that there were several other destinations for us to cover during our expedition. I mean the place was a haven from the noise and bustle of the city and we were thrilled to explore everything.
There are frequent buses available from Bangalore to Horanadu, Kalasa, or Kudremukh and to reach the Ballalarayana Durga fort one can get down at Sunkasaale. Usually, the trek to the fort starts from Sunkasaale. There is also a railway station in Chikmagalur. We came to know about all this new information from the people of RiverMist resort.
During our journey, we noticed glimpses of traffic and understood that it was just getting started. And both the roadsides were huddled with hotels and restaurants. We had our breakfast from one of those restaurants and before we knew it we were back on the road again.
When we reached the resort it was well past noon. The journey was pleasant and it took us much less time to reach the destination than we expected. We followed the GPS location that was sent to us by a guy working in the RiverMist and it helped us a lot. They welcomed us and had arranged a homestay for us. I was so tired from the 6-hour journey that I fell asleep soon after I entered our room.
We had lunch(Malnad Style) from the restaurant and thereafter we were only focused on the Ballalarayana Durga trek. Later that day the guys from RiverMist contacted us and explained to us about the trekking and other activities that we were about to do.
There was a different route for difficult trekking for Ballarayanadurga Fort which is from Mundaje. We were told that the hardest level will be a lot more adventurous and dangerous.
For the most difficult level of trekking, it usually took 1 to 2 days to reach the fort. The starting point for this level of trekking was from Mundaje village near Ujire town. And apparently, there were many other destinations like Bandajje Arabi Waterfalls and Gowdara base camp to explore at this level.
I was told that this level of trekking may present difficulties for many. And it was a completely different trek from what we had chosen. We chose beginner-level trekking. The trek that we were on was much more family-friendly and easy.
We were advised to carry enough water, medicine, and some food. Ballalarayana Durga is an isolated and ruined fort that stands atop a hilltop. As such it has no shops nearby. It is advisable to carry food while visiting the fort. We made sure that we had everything required.
Trilling Experience in Forest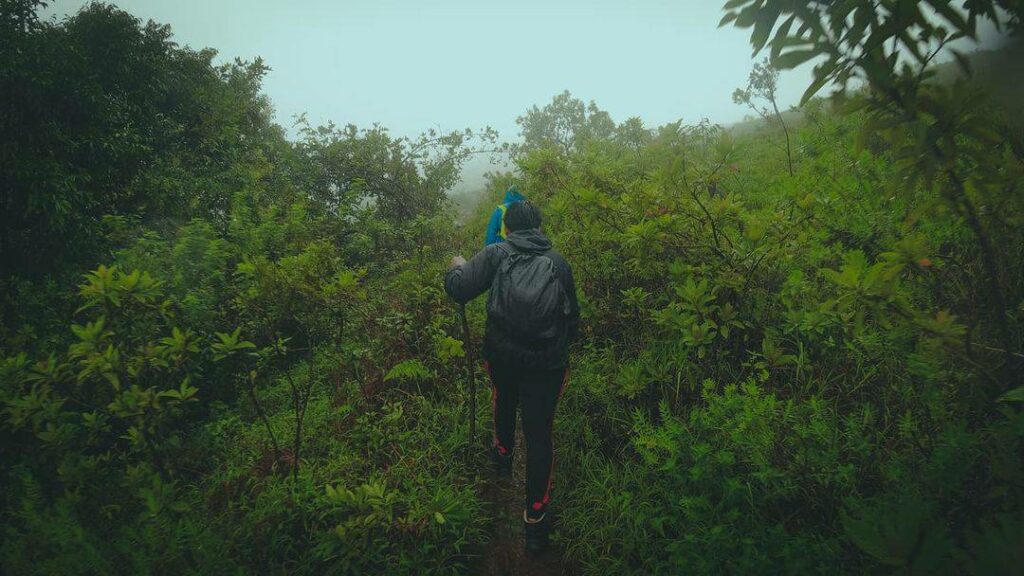 To our surprise, the RiverMist guys also brought us water, medicines, a torchlight, and a lot of fruits. Their hospitality awed us. Supposedly there were some problems with bees. So we were advised to cover our body with the body cream provided by the management. They informed us that, the body cream keeps the bees away. They picked us up in their vehicle and we reached the starting point a 3:45 in the evening.
There was an ancient Kalabhairaveshwara temple situated just below the fort. Legend has it that Ballala and his wife used to visit the temple every day. Before the trekking started we spent some time at Kalabhairaveshwara temple and the aura surrounding the place was surreal.
The temple was enveloped with indescribable beauty. It wasn't crowded either. It was a promising start. I came to hear about a lot of rituals that are performed in the temple and it grasped my attention. There was a ritual of lighting lemon lamps. The priest explained that this ritual protects us from evil and it is good for our 'Grahas'.
There was a weekly oblation of Chatru Sanmaga Homam and blood ritual. There was also a thing called Bhairavar Prayer. Time, Kalpanta, Hostile, Skull, Samkara, Unmanta, Fighting, and Ukkira are the 8 types of Bhairavas.
We felt blessed learning about these new things. We were on a tight schedule, so we had to move on. We were informed that the fort was in the third mountain. So we needed to cross two mountains first. After 5 minutes of walking, we came up to a halt at Rani Jhari peak. The view was nothing but majestic and alluring. Though the rain had battered the area for the past few days, it was pleasant when we were there. There is a legend behind Rani Jhari. This mountain top is said as the place where Rani committed suicide. It sounds horrible but the beauty of the place was stunning.
After spending some time and taking some quick snaps with my camera we were back on our track. Presumably, since we chose beginner level trekking we were reassured that there wouldn't be any risks.
During our trekking, one of our caretakers started to explain to us about Balla Durga. It is believed that Balla Durga has different clothes that she dons for different seasons. She puts on her golden outfit at the time we visited (summer) and thus she provides warmth for the earth.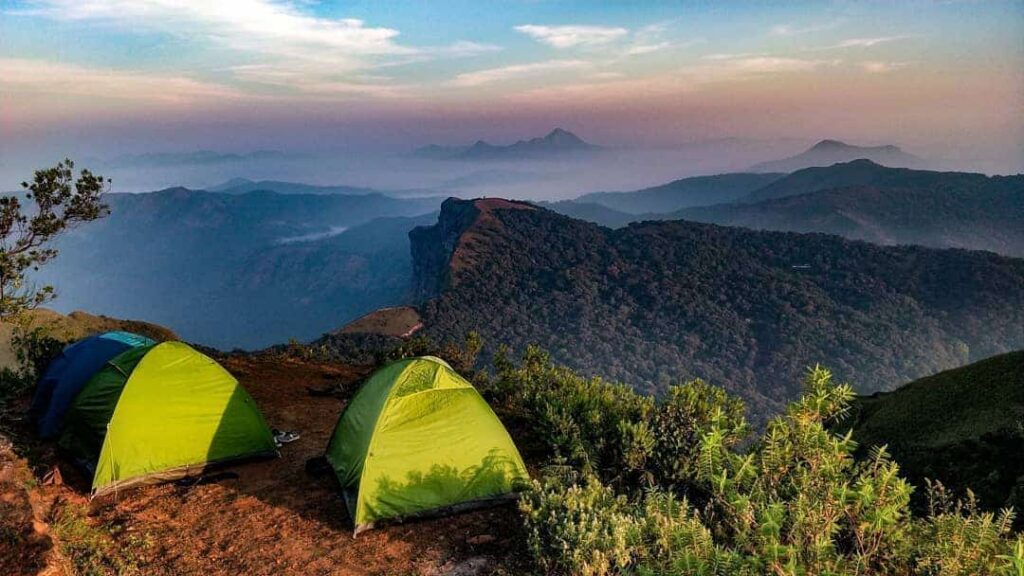 At Monsoon, she wears her green clothing and the place will be encompassed with freshness and the rain nourishes the earth. In winter she wears her snow-white clothes and eases the earth with the pleasant cold. It was fascinating to hear stories like this. These types of stories always captivated me and filled my heart with wonderment. We reached the top of the first mountain about time to see the sunset. It was a magnificent view.
Absolute Symbol of Beauty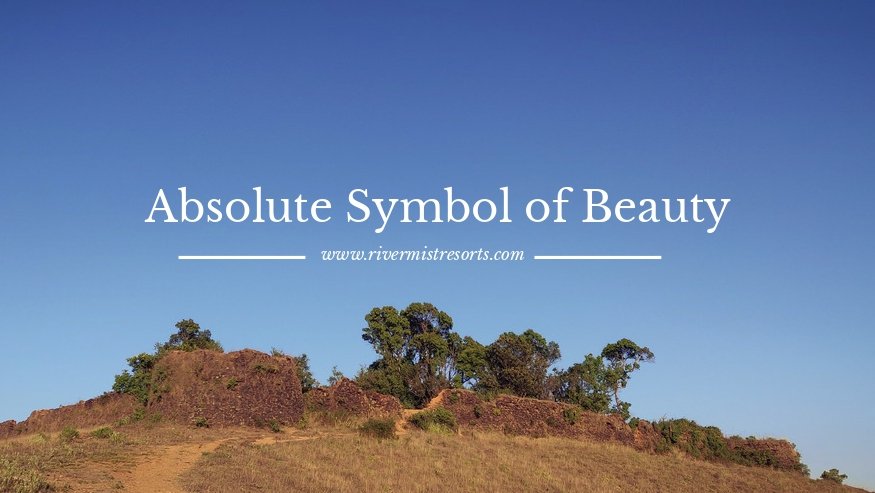 We continued our trekking to the second mountain. It was only after another hour of trekking that we reached our final destination. There was something about the Fort that I can't put any words into. Forts always have a mysterious ambiance surrounding them. Most of them are reminiscences of a rich bygone era.
Situated atop a hill that is 1509 meters high, the fort overlooks the town of Sunkasaale. We were standing in a place of historical importance and the thought sent chills down my spine. We absorbed the beauty and richness of that place as much as we could.
There was something special about that certain fort and that place. There was a mysterious vibe to that particular area. It left me speechless for a moment. By the way, the disturbance from the bees was annoying. I had a severe headache at the end of the day, but the medicines we carried helped me with that. Overall we had a pleasant trekking experience.
Best Sunset Spot in Chikmagalur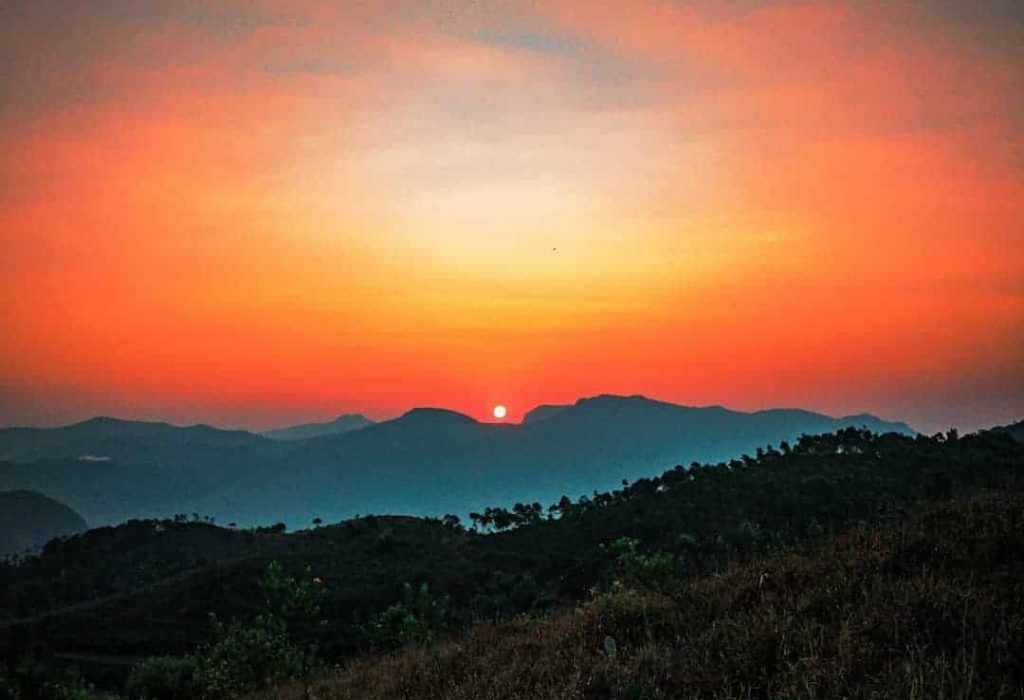 It was getting darker, so we built tents for us to rest and ate some food we carried in our backpacks. We also lit some firewood to make a campfire. We drank a lot of water that day and the plastic bottles were collected by one of our caretakers to take back and dispose of. It was such a nice gesture. The night was filled with the sounds of insects and I was a little concerned initially. But soon I learned to adapt.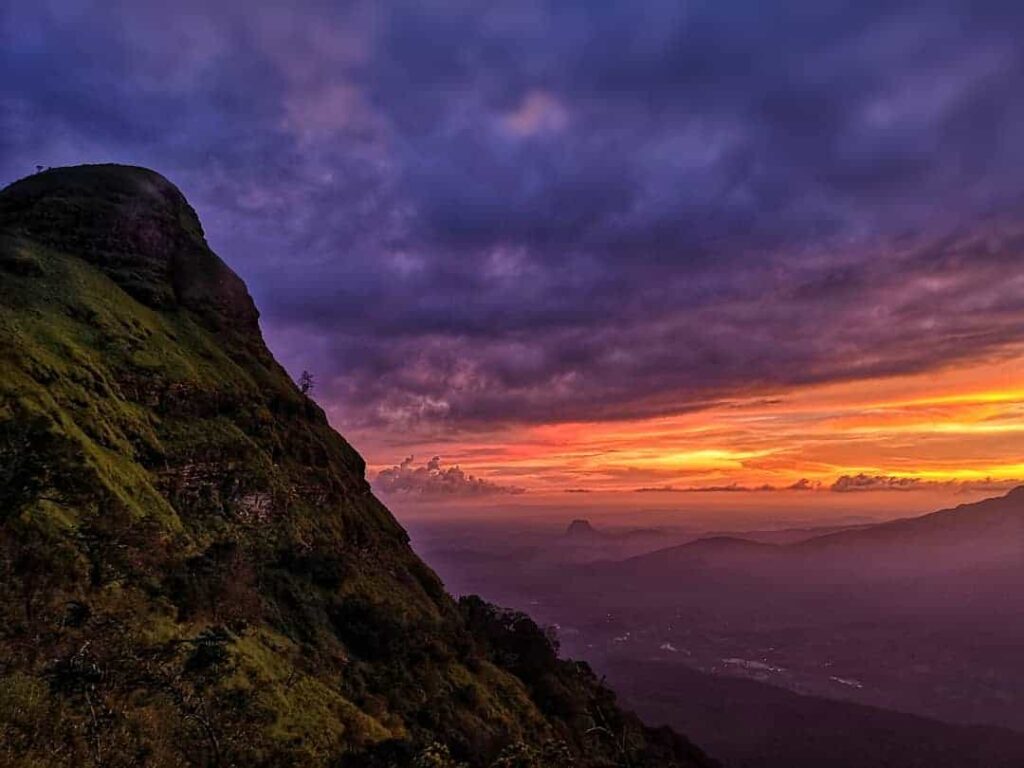 The beauty of the night can only be enjoyed and experienced in places like these. The sky was filled with countless stars and the immense beauty almost brought tears to my eyes. We lay there watching the sky and counting the shooting stars that went past above us. The place was an embodiment of pure magic. I felt the magic passing through me that night. I felt the wounded world. I felt the people who lived before us. I felt the changes we brought to this world.
Our caretaker told us that we should be up early in the morning to view the sunrise. He insisted we not miss it. And he was right; the view of the sunrise was like ripped straight from a fantasy book or movie. The place appeared like The Shire from the Lord of the Rings books. As a book nerd, it was a dreamlike experience for me. We left the fort around 9:00 am and descended the same route we traveled the day before. I wouldn't call it a once-in-a-lifetime experience or anything like that. But it definitely was something I never experienced before and it was worth all the effort and money we put in.
It undeniably changed something deep inside me and I think we made the right call by making a trip to the ever graceful, bewitching grand land of Ballalarayana Durga.
A quick note to readers:
Read the following information given below if you ever intend to visit the beautiful Ballalarayana Durga Fort.
Best time to visit the Ballalarayana Durga fort: The best time to visit the fort is from the middle of November to May. It is better to avoid visiting the fort from June to October as it is the rainy season. But those who enjoy monsoon should visit between June and August, as it is the best time for that.
During this season the place will be covered with lots of leeches, the rocks become slippery due to the rains and the streams become difficult to cross. Hence it is best to avoid making a trip to the fort at such times.
Things to carry; (RiverMist helped us with this): Necessary medications, clothes, backpack, toiletries, enough water, shoes with good grip, sunglasses and sunscreen, camera (optional), mosquito or bug repellent cream, and torch with extra batteries or solar lights. You may have to undoubtedly be equipped with tents, camping bags, food items to prepare something, snacks, etc. Carry some energy bars, dry fruits, and glucose as well. Always try to pack as light as possible.

Follow the trail
It's always good to have a local contact (like RiverMist)
Don't litter the area. Find a way to safely dispose of the plastic wastes (RiverMist took care of that business for us)
Do not miss places like Rani Jhari and Kalabhairaveshwara temple-like people often do
Do not touch any insects or fruits in the woods if you are not sure about them
Check for permission from the Forest Department before entering the forest reserve.
How to reach Ballalarayana Durga?
The place is well connected through the road network from Bangalore. There are multiple trekking routes to Ballarayanadurga. Our blog is about trekking from Bangalore –Sunkasale – Ballarayadurga
(Cross Mudigere, proceed towards Kottigehara, take a right turn towards Kalasa and reach Sunkasale. Take a left turn here and proceed till you reach a dead end and take a left turn to reach the starting point of the trek. This village is located about 34 km from Mudigere and 290 km from Bangalore.)