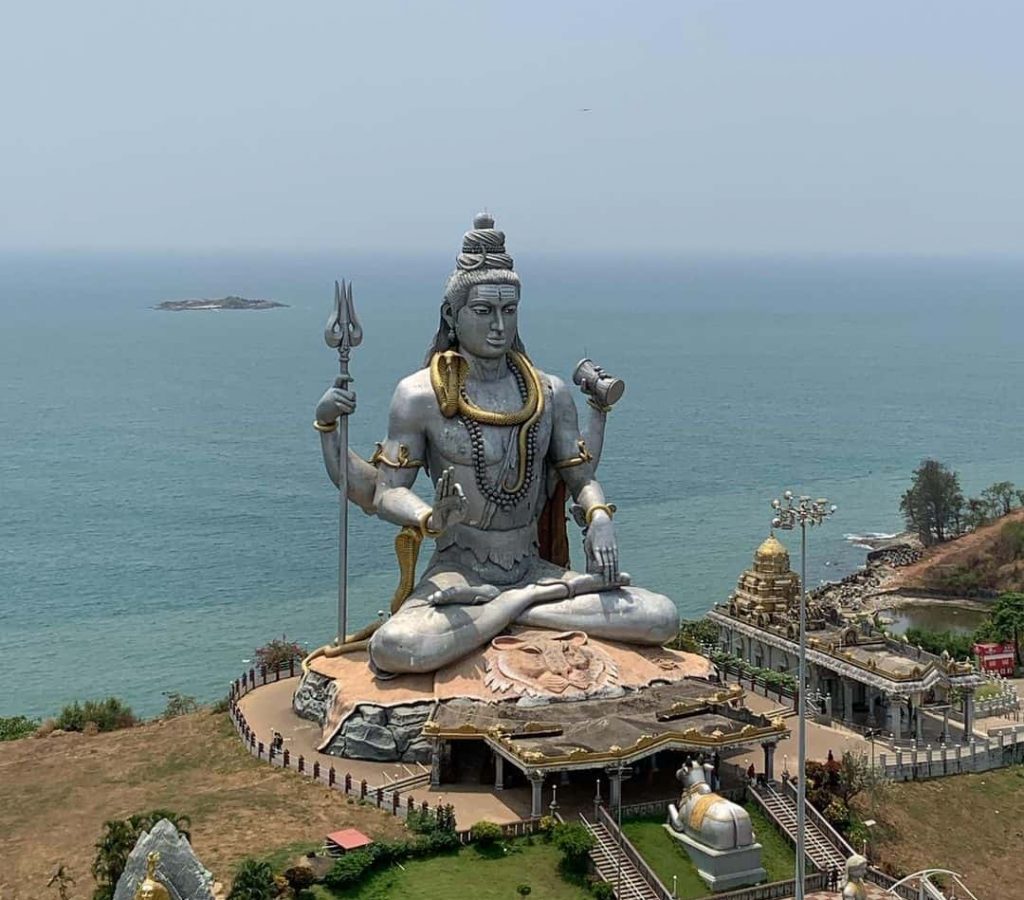 When you think about the best beaches in India, Goa is the answer that automatically comes to everyone's mind. The southwestern Indian state of Karnataka situates a tropical paradise known as Gokarna, where some of the best beaches in the country are located.
It is located at a distance of about 486 km from the Best places to visit near Bangalore city and is known to be a hub for local tourists and foreigners alike. You might ask "what is so attractive about this place?" Gokarna is home to unique beaches like Kudle beach, Gokarna OM beach, Half moon beach, and Paradise beach which offer serenity and peace of mind that will rejuvenate you with your roots.
Another major attraction in this town is the sacred pilgrimage sites like Mahabaleshwar Temple. Apart from beaches, Gokarna is famous for its temples too. The mighty 123 feet Shiva statue in Murudeshwar temple, which is the second-largest Shiva statue in the world, is a sight to witness.
So what are you waiting for? Pack your bags and head straight to Gokarna for a nice calm vacation.
Major attractions: Beaches such as Kudle beach, OM beach, Half moon beach, Gokarna Paradise Beach, Mahabaleshwar Temple, Murudeshwar temple, Mirjan Fort, and Yana hills are some of the best places to visit in Gokarna.
The best time to visit Gokarna is from October to March since that's when the weather is at its very best.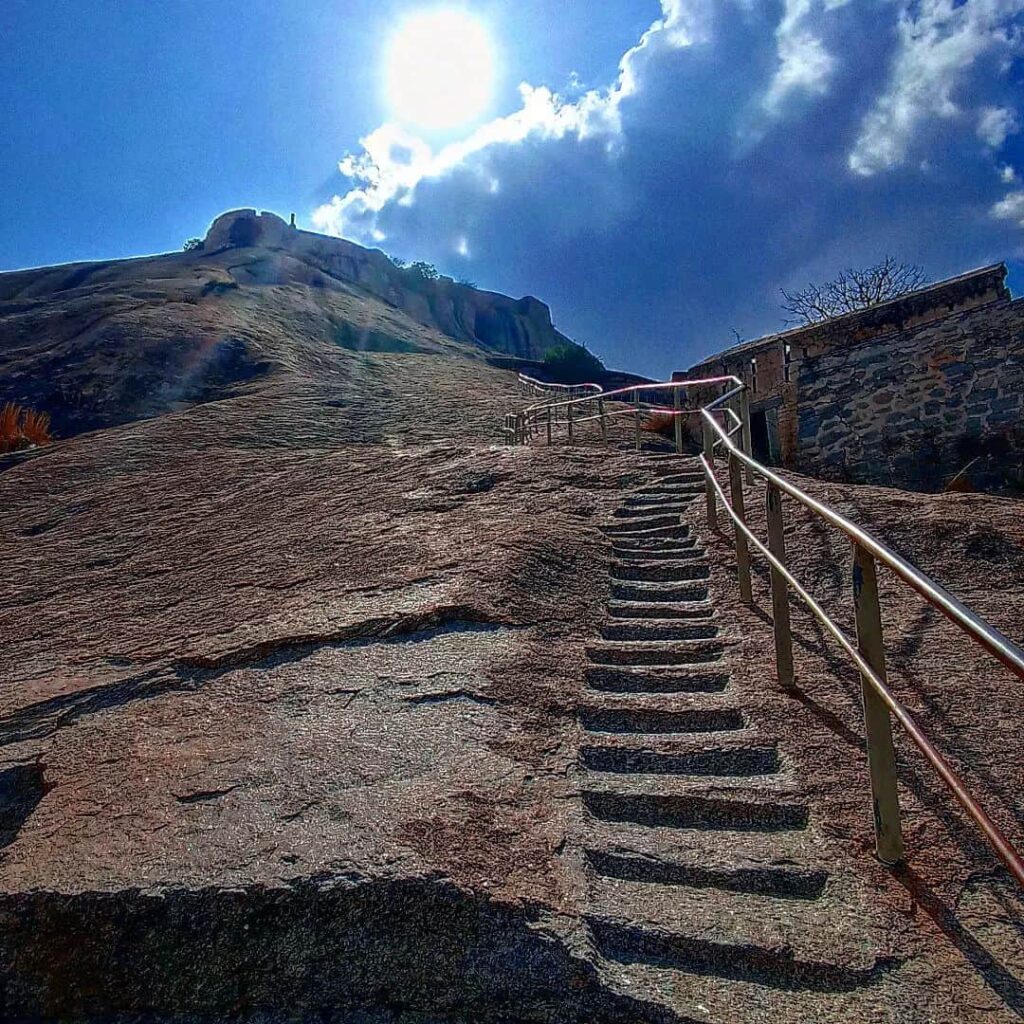 Madhugiri is a town in the Tumkur district located 105 km away from Bangalore in the Indian state of Karnataka. It is Asia's second-largest monolith with a height of 3930 feet above sea level. Madhugiri is one of the 34 educational districts in the state of Karnataka.
Madhugiri is most famous for the fort. Three gateways are leading to the fort namely, Antaralada Bagilu, Diddi Bagilu, and Mysuru Gate and at the top situates the ruined temple of Gopalakrishna. It is one of the most famous tourist attractions in the state.
Another major tourist attraction near Madhugiri hill is Jayamangali Blackbuck Reserve. The reserve inhabits a variety of reptiles, birds, and mammals that include jungle cats, rabbits, Indian grey mongoose, wolf, and more.
Siddaganga Mutt is a popular pilgrimage place near Madhugiri and one of the important centers for education in the state as well. Mallinatha Temple and Sree Harihareshwara Swamy Temple are two other most famous temples here.
Channarayana Durga is a well-known place near Madhugiri and the Channarayana Durga fort trek offered here is another major attraction for travelers. For bird watchers, Siddara Betta located near the Devarayana Durga is heaven. It is home to a variety of bird species including the famous Yellow Throated Bulbul and is a treat for bird watchers.
Major attractions: Timmalapura Forest, Madhugiri Betta, Siddaganga Mutt, Channarayana Durga, Jayamangali Blackbuck Reserve, and Madhugiri Fort.
Located at a distance of about 105 km away from the capital city of Bangalore, Bheemeshwari is fast growing as a major tourist attraction in the state of Karnataka. Bheemeshwari, located in the Mandya district of Karnataka, has gained a reputation as an adventure sports hotspot.
Fishing, water rafting, coracle ride, kayaking, zip-lining, mountain biking, etc are some of the most popular activities offered here. The region is also a natural habitat of the toughest freshwater game fish called the Mahseer.
The place is famous for its rich flora and fauna. Exotic animals like crocodiles, wild boars, leopards, and jackals are found here. Elephants, deer, crocodiles, turtles, snakes, and about two hundred bird species are inhabitants of Bheemeshwari.
Located on the banks of the River Cauvery and surrounded by Mekedatu, Gaganachukki, and Barachukki waterfalls, Bheemeshwari is a haven for adventure enthusiasts and nature lovers alike.
Major attractions: Bheemeshwari Nature Camp, Skandagiri trekking, activities like water rafting, coracle ride, kayaking, zip-lining, mountain biking, and other rope activities, Cauvery Fishing Camp, and Doddamakkali Nature Camp.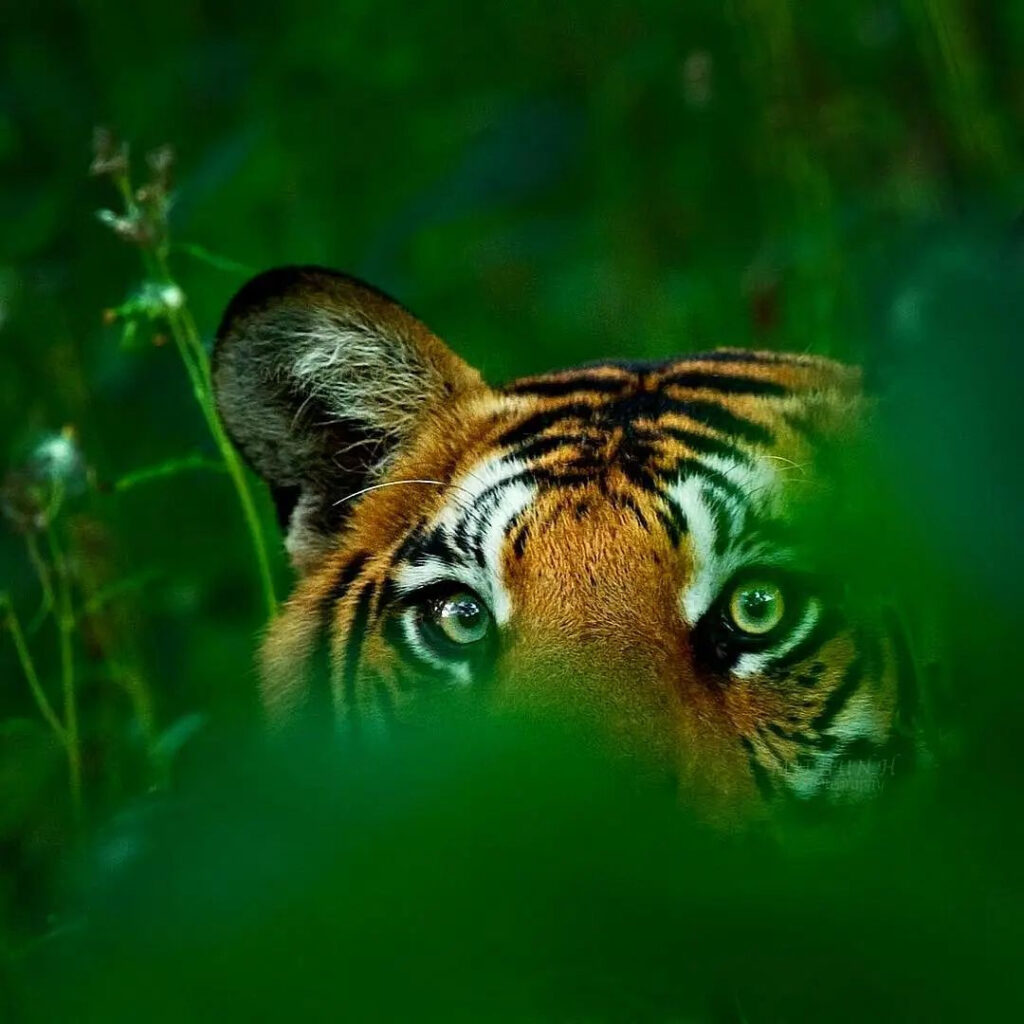 Situated at a distance of 172 km away from Bangalore city, the Biligirirangana Hills, commonly referred to as BR Hills is a hill range in the Chamarajanagar district of Karnataka.
The BR hills link and stand as the wildlife corridor that connects the Eastern Ghats and the Western Ghats. It is most famous for Biligiri Rangaswamy Temple Wildlife Sanctuary or popularly known as BRT Wildlife Sanctuary.
Situated at an altitude of 5091 feet, this wildlife sanctuary is home to many animals including elephants, tigers, sloth bears, bison, deer, porcupines, and more than 250 species of birds like the Paradise Flycatcher, Racquet Tailed Drongo, and the Crested Hawk Eagle.
The 500 years old temple called Biligiri Rangaswamy Temple also known as BR hills temple which stands atop Biligirirangan Hills is one of the most important destinations here along with Dodda Sampige.
Believed to be more than 2000 years old, Dodda Sampide Mara meaning big Champak tree is a holy place for the people of Soliga tribes and locals in general.
The hills also offer opportunities for rafting, camping, angling, fishing, coracle boat riding, trekking, Jeep Safari, and Elephant Safari.
Major attractions: Biligiri Rangaswamy Temple, Dodda Sampide Mara, and BRT Wildlife Sanctuary are some of the many.
June to September is the monsoon period in Dandeli. This is the best time to visit Doodh Sagar falls also. Rafting on the rapids of the Kali River, looking for the elusive Black Panther in the wildlife sanctuary, trek to Nagjhari Falls, watching the umpteen beehives at Sinteri Rocks, trek to the Kavala caves, bird watching at Ganeshgudi and sunset from Ganeshgudi Hill are some of the attractions that Dandeli offers.
October to January is considered the best period to visit Dandeli. The forest becomes lush green and energetic after the monsoon season. Waterfalls will be at full force, the weather will be pleasant and the active wildlife makes it an apt time for visiting. River rafting at Kali starts during this season.
There are a lot of unique cultures living in and around Dandeli through a variety of tribes. There is the Lamani tribe, the gypsies of Rajasthan. Then, there is the very famous Siddi tribe, who are people of African origin and who were brought to India as slaves. Then, there are the Gowli tribes who manage cattle, and the Medar tribe who work in the forest and are bamboo craft artisans.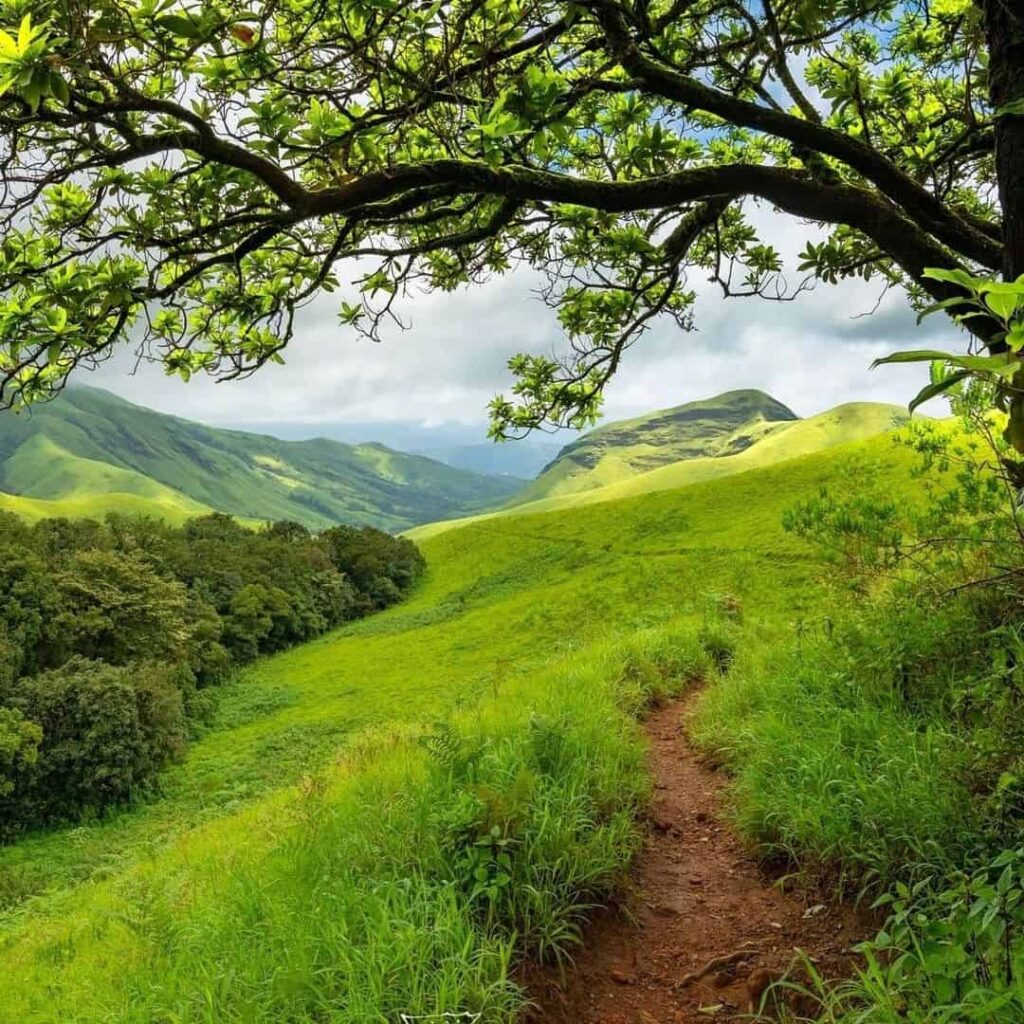 Coorg is one of the most sought destinations in the whole of South India. Coorg, also known as Kodagu, is a rural district in the south Indian state of Karnataka. It is situated approximately 267 km away from Bangalore and is famous for its coffee and tea plantations.
Majestic waterfalls, serene tea plantations, lush green landscapes, and foggy mountain tops rightfully gave Coorg the name, the Scotland of India. Waterfalls like Abbey Falls and Iruppu falls, topped with the richness of nature are two of the most popular tourist places to visit in Coorg.
Coorg is quite famous for its wildlife. Nagarhole National Park protects wildlife and presents a perfect location for people to observe them. Dubare elephant camp provides a natural habitat for elephants and offers one of a kind experience for travelers. Coorg does not possess a railway network or airport, the nearest airport being Mangalore, which is approximately 135 km away. The nearest railway station is at Mysore, which is about 120 km away.
Coorg also provides a lot of trekking options. Brahmagiri peak trek, Kumara Parvatha Trek and Tadiandamol Trek are some of them. Raja's Seat is one of the most scenic points in Coorg.
Namdroling Mandroling Monastery in Bylakuppe which is also known as the Coorg Golden temple is the most important of all. The place is visited by hundreds daily and is the second-largest Buddhism settlement in India.
Major attractions: Nisargadhama, Brahmagiri peak trek, Kumara Parvatha Trek, Tadiandamol Trek, Raja's Seat, the Golden Temple, Nagarhole National Park, Dubare elephant camp, Abbey Falls, Iruppu Falls, Mandalpatti View Point are Chettalli some of the major Coorg tourist places.
Agumbe is a small village located in Shimoga district, in the southwest Indian state of Karnataka. It is often referred to as "The Cherrapunji of the South". Situated at about 347 km from Bangalore, Agumbe is home to one and the only Rainforest Research Station in the Country.
Agumbe is surrounded by several waterfalls. Barkana Falls which is the tenth highest waterfall in India is the most popular among them. Kunchikal Falls, Jogigundi Falls, Onake Abbi Falls, and Koodlu Theertha Falls are some other popular waterfalls here. These are also among the many tourist places to visit in Agumbe.
Agumbe is most famous for Sunset point which offers a magnificent sunset with picturesque panoramic views. Situated at an altitude of 826 m, Narasimha Parvatha also known as the Agumbe peak is a great trekking option available in Agumbe ghat.
Agumbe is also famous for its wildlife and is often referred to as King Cobra capital because of the high number of snake species found here. It is one of the wettest places in India, which makes it a perfect monsoon destination and the key feature of Agumbe tourism.
Major attractions: Waterfalls such as Barkana Falls, Kunchikal Falls, Jogigundi Falls, Onake Abbi Falls, and Koodlu Theertha Falls, Agumbe Sunset viewpoint, Narasimha Parvatha trek or Agumbe trek, Agumbe Rainforest Research Station and Gopala Krishna Temple are some of the important places to visit in Agumbe.
Belur is a small temple town located in the Hassan district of Karnataka and is most famous for the Chennakesava temple complex, which is considered one of the most intricate craftsmanship of Hoysala architecture.
Situated at 221km away from Bangalore, Belur along with Halebidu are cited as some of the major tourist places in Karnataka.
Belur is home to a lot of well-renowned temples like Kesava Temple, Hoysaleshwara Temple, Shravanabelagola Temple, Kedareshwara Temple, and Jain temples. Pushkarni or stepwell is another attraction that is famous among travelers. The Belur railway station remains a network that connects the town with the rest of Karnataka.
Belur along with towns like Halebeedu and Shravanabelagola forms the Golden Triangle of Karnataka Tourism. Other than temples, Belur is also famous for Yagachi Dam and Yagachi Water Adventure Sports Center which provide adventurous water sports activities.
Major attractions: Chennakesava temple, Kesava Temple, Hoysaleshwara Temple, Shravanabelagola Temple, Kedareshwara Temple, Jain temples, Pushkarni, Yagachi Dam, Narasimha Pillar, Madanikas, Doddagaddavalli and Belavadi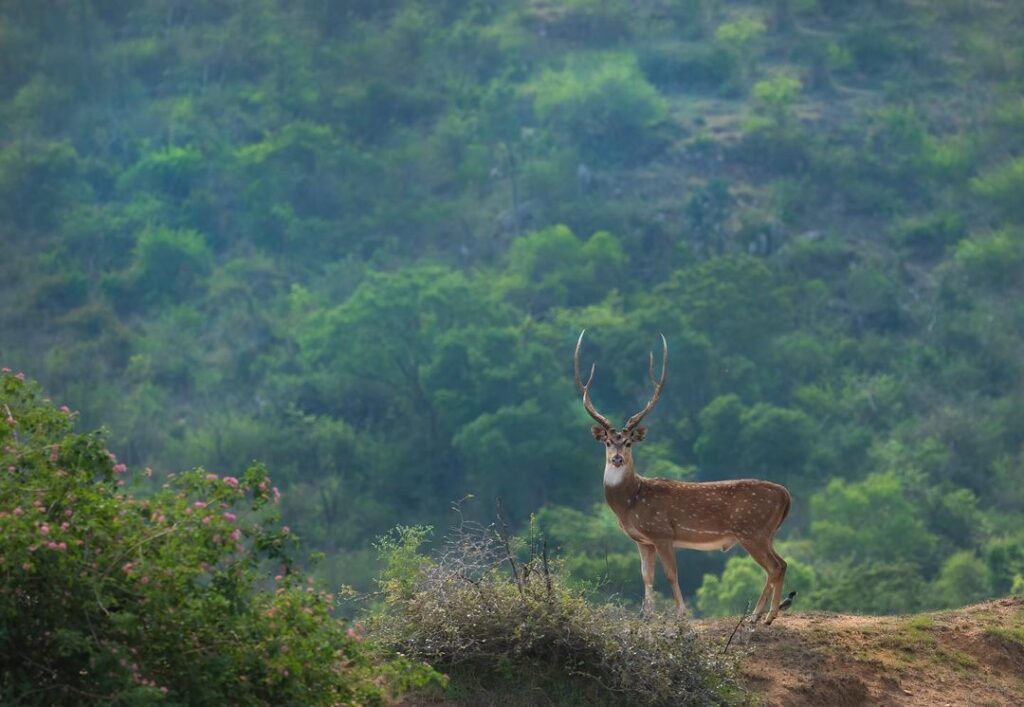 Once a private hunting reserve for the Mysore Maharaja, Bandipur has now been established as the largest protected area in entire southern India. Part of the Nilgiri Biosphere Reserve, Bandipur is the first Biosphere Reserve in the country. This national park occupies a special place in India's multitude of efforts toward nature conservation. Bandipur is located at a distance of about 220 km away from Banglore city and has been a designated tiger reserve since 1973.
Bandipur is well known for its Elephant and Tiger population. Other natural inhabitants of this vast forest land are gaur (a type of bull), Bonnet macaque, dhole, civet, jungle cat, Indian palm, giant flying squirrel, striped hyena, rusty-spotted cat, Nilgiri tahr, leopard, Hanuman langur, cat leopard, sambhar, chital, mouse deer, four-horned antelope, wild boar, jackal, sloth bear, panther, Malabar squirrel, porcupines, the black-knapped hare and birds like jungle fowl and green pigeon.
Bandipur national park is often cited as a space for photographers.
The rich wildlife and endless picturesque views cement it as one of the most sought destinations in the country for photographers and travelers in general.
Other major activities here are bird watching and sightseeing.
There are more than 200 species of birds in the park and the charming surroundings of the towering Western Ghats make it a very unique destination in the entire country.
Bandipur tiger reserve provides an excellent opportunity of viewing the diverse wildlife and the flora and hence the most popular thing to do here is a wildlife safari. According to different requirements, different types of safaris like Bus safari, Elephant safari, and Jeep safari are provided here.
Major attractions: Gopalaswamy Betta, Mudumalai Wildlife Sanctuary, Bandipur Wildlife Sanctuary, Biligirirangan Hills, BRT Wildlife Sanctuary, Dodda Sampige Mara, and Anjanayar Temple are top places to visit near Bandipur.