Places to visit in Karnataka during monsoon
"To know India and her people, one has to know the monsoon. It is not enough to read about it in books, or see it on the cinema screen, or hear someone talk about it. It has to be a personal experience because nothing short of living through it can fully convey what it means to the people for whom it is not only the source of life but also their most exciting impact with nature." ― Khushwant Singh
Over time, monsoon has turned into a big tourist event in India. Most of India experience hot weather throughout the year and many consider monsoon as the best time of the year. The monsoon experience is different in different Indian states. The temperature plummets down during the day and night alike, which is a great relief from the scorching heat. Since monsoon provides the most favorable climate conditions, many like to arrange their vacations and excursions during that time period.
And the state Karnataka has a great reputation in that field. Karnataka is most beautiful during the monsoon period. The lush green forests, the scenic waterfalls, the never-ending curves of grasslands and the extraordinary wildlife make the state a heavenly paradise during that time. Trekking in the Western Ghats is always a great experience. If it is monsoon, it will add more fun to your adventure with heavy rain, green meadows, overflowing streams, slippery rocks, misty weather at the valley, enchanting waterfalls, and finally leech bites.
Here are some of the best places to visit in karnataka during monsoon
Monsoon in Karnataka: Here are the top 8 places to visit
Coorg-The Crown Jewel of Karnataka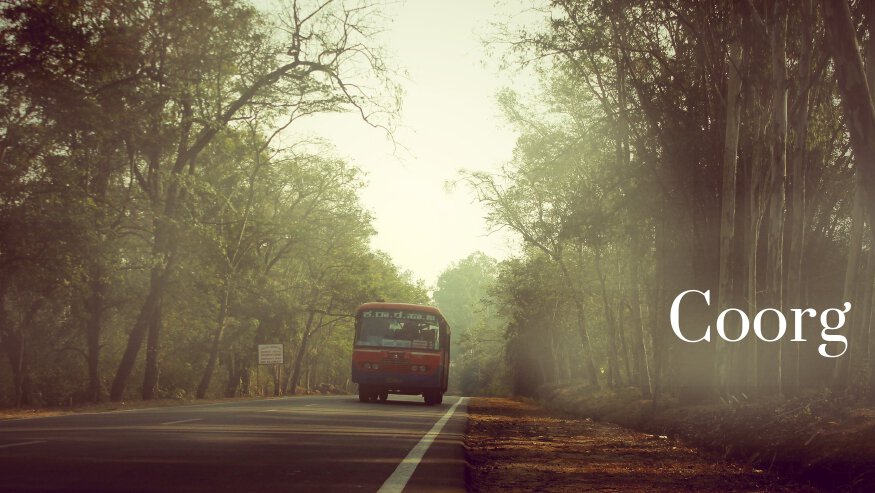 Coorg is often cited as one of the most beautiful places in India. Coorg or Kodagu as it is often referred to be is situated on the beautiful Western Ghats of India. Coorg is also known as The Scotland of India among travelers and rightfully so.

While this little town adorned with patches of green tea plantations and aromatic spice plantations, is an all-year-round destination, monsoon is widely considered to be the best time to visit Coorg as the town is drenched in rain, and the lush-green plantations that offer enchanting views.

The picturesque region is known for its high-quality coffee, but there are so much more to see and do in Coorg. You can enjoy river rafting in Barapole, go fishing in the rivers and lakes, camp under stars, trek through hills and jungle, experience Tibetan culture at the golden temple, bathe elephants at the Dubare elephant camp, etc. The options are unlimited. You can also watch the sunrise at Bisle viewpoint and trek to Chelavara falls during monsoon.
It is also known as the Lakshmana Tirtha Falls. The Irupu falls is a hidden treasure of Coorg which comes to its full majestic glory during the monsoon season in Coorg. This place is a photographer's heaven. This stunning waterfall is a tributary of Cauvery River and is settled along with the Brahmagiri mountain ranges and the breathtaking beauty of this waterfall is something that should be witnessed.
Abbi falls/Abbey falls is located some 8 km from the Madikeri town. It is a monsoon attraction in Coorg. During Monsoon River Kaveri flows through this place and the falls is in its full glory at that time.
Rafting at Barapole River
One of the most underrated activities to do in Coorg is river rafting. Coorg is in fact a great place for river rafting, especially during the monsoon. The Barapole River offers different rafting levels/grades ranging from I to V, thus providing the ultimate adventure experience for travelers. Barapole is one of the most sought of place to experience white water rafting and to capture some of the most adventurous pictures.
Lush Green Rainforests of Agumbe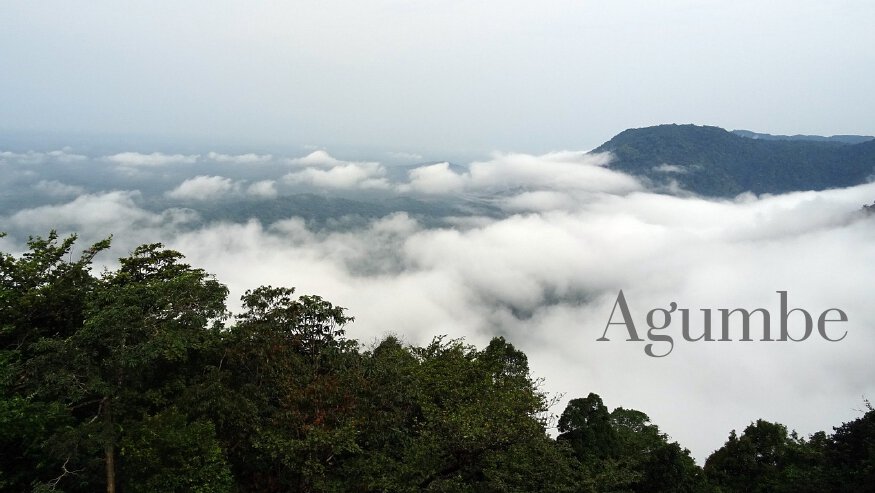 It is located in the Malnad region amidst thick forests stretching hundreds of kilometers on the way. As part of the Western Ghats mountain range, Agumbe lies in a UNESCO World Heritage Site.
If you grew up in the 90s and have never heard of Malgudi Days, then there's something wrong with you. Malgudi — a fictitious town from R.K. Narayan's novel — is actually Agumbe Village. Agumbe is one of the wettest places in India. The highest rainfall in South India and the second highest in India are recorded here. Hence the village is also known as 'The Cherrapunji of the South'.
The village is also home to India's one and only Rainforest Research Station. It is also one of the most untouched destinations in South India you will ever find. Agumbe is known for its numerous waterfalls, natural splendor, and rich biodiversity. There are many waterfalls like Onake Abbi, Jogi Gundi Falls, and Barkana Falls that transform into thunderous behemoth during the monsoon.
This place also offers a lot of adventurous trekking options. Kavaledurga fort trek is one of the most popular among them. Agumbe is also said to have the highest population of snakes in the country. Agumbe's magical allure lies in its remoteness. To appreciate Monsoon's full glory, one has to visit Agumbe at that time.
Ballalarayana Durga fort- An Unknown Paradise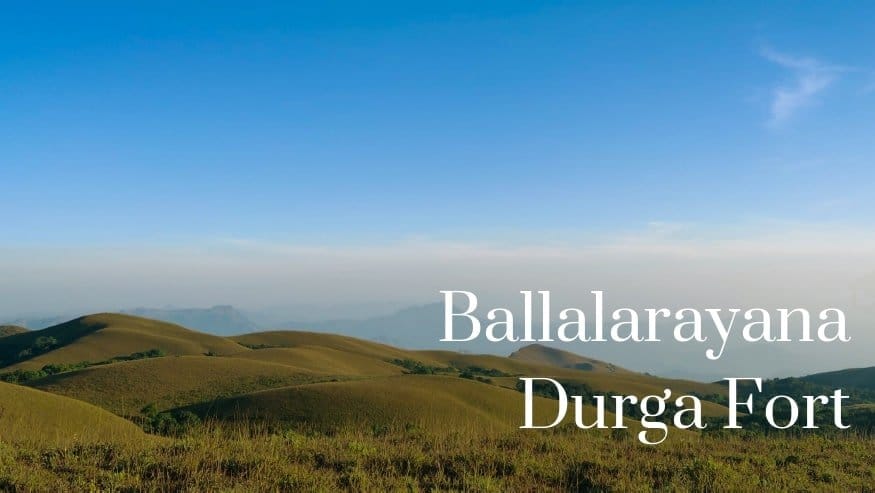 Dense rain forests, endless grasslands, clear streams, and waterfalls are some of the things that can be used to describe Ballalarayana Durga. The fort was constructed by the wife of Veera Ballala l who was the king of the Hoysala Empire in the 12th century.
During monsoon, the place transforms itself into a paradise protected from the outside world. Ballalarayana Durga hill range falls under the Bankal range of Mudigere forest division. One can get a view of the entire Kudremukha hill range, Charmadi ghats, and other hill ranges. The hill is the highest in its range, and the panoramic views from here are breathtaking.
Another major attraction is Bandaje-arbi falls, which is located in the Charmadi ghat section of the Western Ghats. To reach the 200 ft high Bandaje waterfalls, one has to trek to it. To witness the majestic presence of Ballalarayana Durga and the waterfalls that accompany the trekking, one has to visit the place during the mighty monsoon season.
Dandeli National Park-An Adventure Driven Trip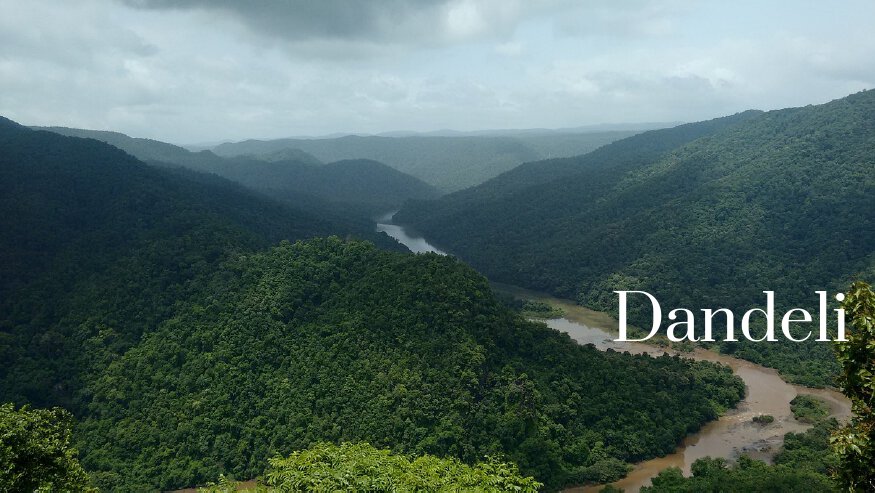 Dandeli is a picturesque village located on the banks of river Kali in Karwar. There are a multitude of reasons to visit Dandeli. Bird watching, river rafting, water adventures, and wildlife are some of the reasons why people visit Dandeli. Rain brings lush greenery to Dandeli, which is an amazing feast for your eyes.

Rain in Dandeli provides a poetic and surreal experience to the visitors. One of the richest wildlife habitats in the world and home to several valuable trees and animals, Dandeli is also lauded as a bird watcher's paradise and home to over 450 species of birds. If you are a wildlife enthusiast, the forests of Dandeli are one of the excellent places to savor the exotic flora and fauna during monsoon in Karnataka.

June to September is the monsoon period in Dandeli. This is the best time to visit Doodh Sagar falls also. Rafting on the rapids of the Kali River, looking for the elusive Black Panther in the wildlife sanctuary, trek to Nagjhari Falls, watching the umpteen beehives at Sinteri Rocks, trek to the Kavala caves, bird watching at Ganeshgudi and sunset from Ganeshgudi Hill are some of the attractions that Dandeli offers.

October to January is considered as the best period to visit Dandeli. The forest becomes lush green and energetic after the monsoon season. Waterfalls will be at full force, the weather will be pleasant and the active wildlife makes it the apt time for visiting. River rafting at Kali starts during this season.

There are a lot of unique cultures live in and around Dandeli through a variety of tribes. There is the Lamani tribe, the gypsies of Rajasthan. Then, there is the very famous Siddi tribe, who are people of African origin and who were brought to India as slaves. Then, there are the Gowli tribes who manage cattle and the Medar tribe who work in the forest and are bamboo craft artisans.
The Ancient World of Hampi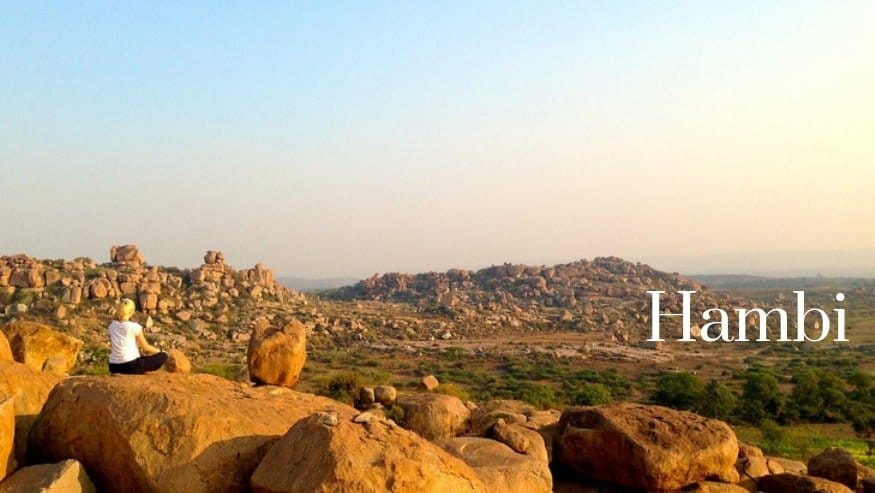 Hampi is one of the places to visit in karnataka during monsoon. Hampi usually receives less rainfall compared to other regions in Karnataka. Hampi being one of the most important UNESCO world heritage sites is popular among foreigners and will be very crowded during winter. Hampi will be much more peaceful and less crowded during the monsoon season.
Boating and coracle ride in increased water level are some of the favorite things to do among the locals during this period. The copious temples which make the scenic landscape of Hampi look breathtaking when drenched in the rains. The pleasant weather makes it easier to hop from one monument to another in the pursuit of perfect photographs.
Make sure to not miss out these places and witness the architectural beauty of Hampi, while you visit the ancient heritage land.
Among famous attractions in Hampi and surrounding places to visit, the Tungabhadra Dam appears to be pure bliss. With lovely flamingos playing around the beautiful garden on one side of Tungabhadra Dam, it's the best place to take out your camera for some great shots.
Daroji Bear Sanctuary is a protected forest area where you can witness lovely Indian Sloth bears strolling around or climbing up the trees or playing around with each other.
Matanga Hill offers panoramic views of historical ruins of Hampi and its surroundings. After trekking up the hill for around 30 minutes, you will find Veerabhadra Temple sitting right at the top of Matanga Hill. This is the best place to witness sunrise and sunset over the lovely landscape of the historical Hampi town.
Hemakuta Hill is a wonderful place lined by a number of Hindu temples, ruins of fortified walls, and broken pathways
Vijaya Vittala Temple is a 15th-century structure that is also considered as the largest of all historical structures in Hampi. With arrays of huge pillars and intricate sculptures, the extraordinary stone chariot remains as one of the most bewitching architecture wonders in the land.
Scenic drive to Chikmagalur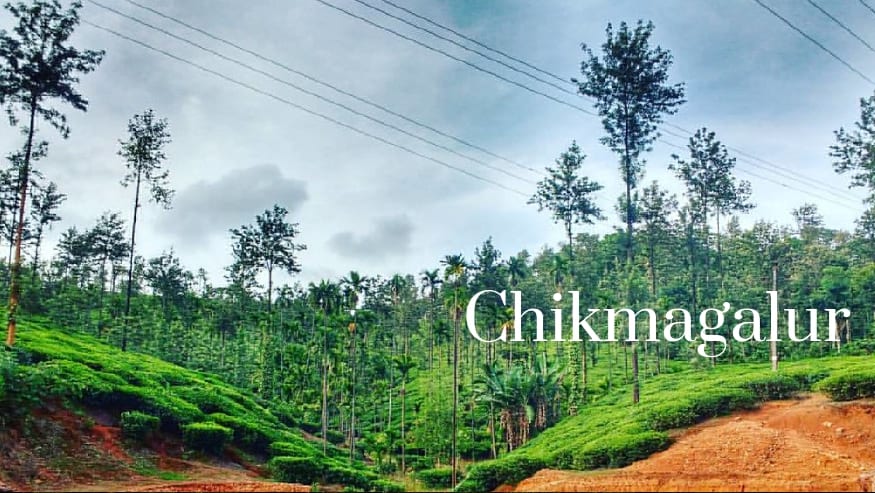 The list of places to visit in karnataka during monsoon is never complete without adding Chikmagalur. Chikmagalur is one of those places that are blessed with lots of attractions which comes alive in monsoon and will be filled with travelers from various places. During the rainy season, nothing can be more pleasurable than driving through Chikmagalur when nature is at its best.
The Charmadi Ghat near Chikmagalur is one of the beautiful monsoon scenic drives through the Western Ghats as it is dotted with numerous waterfalls and surrounded by lush green forests and mountains. Heavy rains in monsoon make this hill station more inviting with lush greenery and cascading waterfalls.
Positioned at the foothills of Mullayangiri range, Chikmagalur is an enchanting monsoon destination with full of scenic surprises like misty hills, hidden valleys, meandering streams, and snow-white coffee blossoms. Besides, this pristine hill town is also known for some spectacular waterfalls that spring to life during the monsoon season. Manikyadhara Falls, Hebbe Falls, Jhari Falls, and Honnamana Falls are the popular waterfalls in Chikmagalur.
Chikmagalur is also famous for its tall mountains and green valleys. Baba Budangiri, Kudremukh, and Mullayangiri are the well-known mountain peaks in the Western Ghats region of Karnataka. Standing at 6316 feet, Mullayanagiri, Karnataka's highest peak, is located in Chikmagalur and is among the top places to visit there.
During monsoon, these peaks are covered with mist and extremely green terrain around. It is an absolute delight as it has amazing trekking trails and unique scenic beauty. Ayyankere Lake, Hirekolale Lake, Yagachi River & Dam and Bhadra Reservoir are some of the most popular water bodies in and around Chikmagalur and are some of the must-visit places during monsoon. Hirekolale Lake is a beautiful manmade lake.
Sightseeing in Kodachadri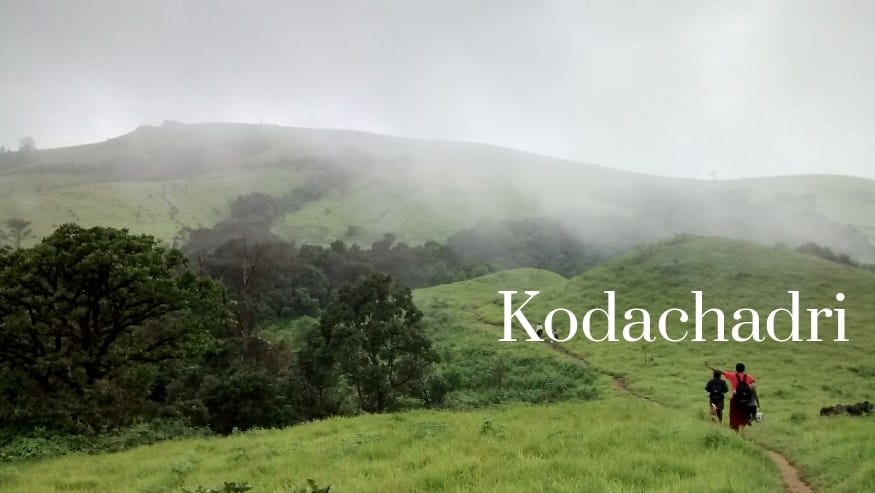 Kodachadri trek is one of the most popular treks in Karnataka and even though it is acceptable to trek all along the year, the monsoons bring a special charm to Kodachadri. This period of time attracts trekkers in huge numbers from different parts of the country. The Hidlumane falls which is located along the trek route will be in its full glory during that time.

Situated at 1343 meter altitude, it is declared as a natural heritage site by the Government of Karnataka. The famous Kollur Mookambika Temple is also located quite near to the peak. It acts as a biodiversity hotspot. Hence it is the home for several endangered species of flora and fauna. Although this place is a famous trekking location, it is much more than that. The prominent places here include Mookambika National park, Nagara Fort, Arasinagundi Falls, and Iron Pillar.
Sakleshpur- The Blissful Coffee County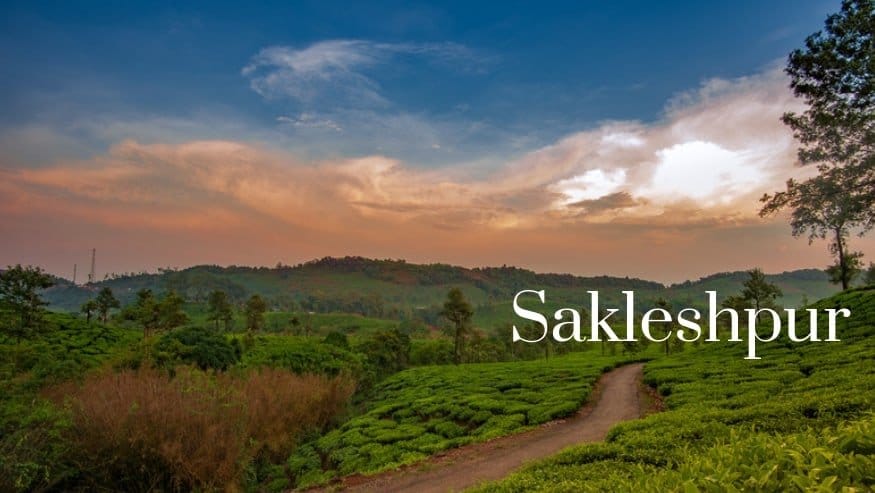 Sakleshpur is an offbeat hill station and one of the less touristy destinations in this list. It is also a great monsoon destination. Driving in Sakleshpur with its lovely meadows, pristine lakes and waterfalls are soothing to the senses.

Sakleshpur is a quaint hill station in Hassan district, which is about 240km from Bangalore. It is surrounded by thick forests and lush green vegetation and is famous for its coffee plantations. During monsoon season it becomes a perfect weekend getaway for photographers and trekking enthusiasts alike. It is also a part of the Bisle Forest Reserve and is considered as a coffee county.

Belur-Halebid, Shravanabelagola, Shettihali Church, Manjarabad Fort, etc are some of the important locations nearest to Sakleshpur. It is also a great spot for bird watching. There is no dearth of nature trails in Sakleshpur. There are many routes like Sunset hill trail, Jennukal Gudda trails and Pandavara Gudda trail to satisfy your trekking needs. Pandavara Gudda trail starts from an 800-year-old temple known as the Bettada Bryaveshwara temple. The views this trail presents are magnificent and otherworldly.